Shuto.IO is a multi-tool Chatgpt plugin that enables you to create content for various use cases such as command lines, WordPress posts, emails, etc.
Depending on the content you generated, the plugin will perform other actions, for instance posting to your WordPress website, provided you've set up permissions at the shuto.io website.
Example prompt: Create an SEO article for my WordPress website on the best AI tools for businesses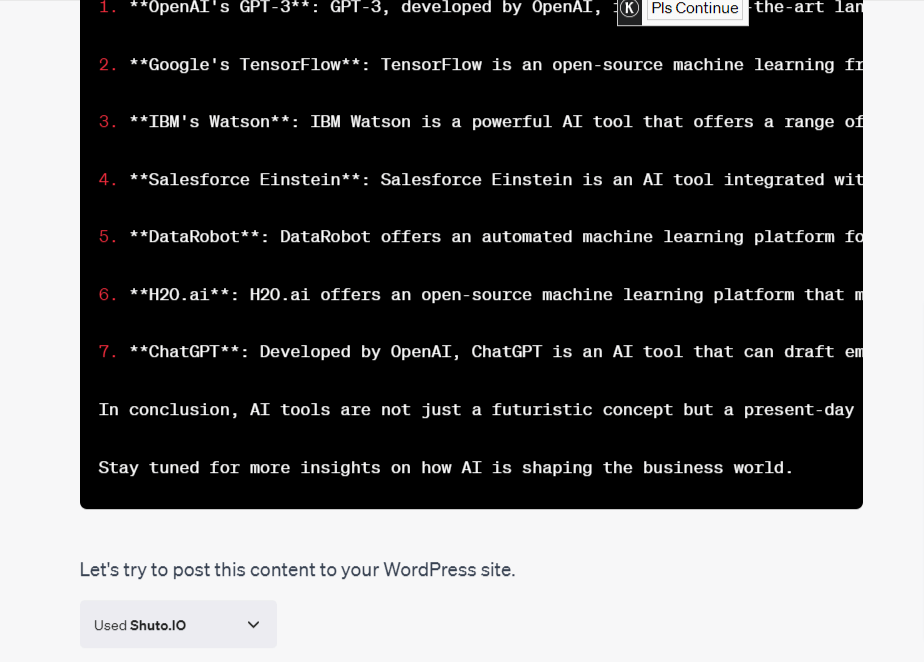 Plugin capabilities:
Send SMS

: You can use this function to send an SMS message to a specified phone number. This could be useful for sending notifications, alerts, or updates.

Send Email

: This function allows you to send an email with a subject and body to a specified email address. This could be used for sending newsletters, updates, or other communications.

Post to WordPress

: This function allows you to create a new WordPress post with a title and content. You can also specify the status of the post (publish or draft). This could be used to automate the process of creating and publishing blog posts on your website.

Execute SSH Command

: This function allows you to execute a command on a remote SSH server. You need to provide the hostname of the server and the command to execute. You can also specify the port number if it's different from the default SSH port (22). This could be used for managing remote servers, automating tasks, or performing other operations that require SSH access.