The World News is a ChatGPT plugin that helps you to get and summarize the latest news and headlines. You can ask it to give you a list of top industry news or give a context of a given trending topic.
With this AI plugin, you can stay updated on what's happening globally without having to read a bunch of articles that seem to go on and on in a bid to make money with ads.
Who uses the World News plugin?
This AI news summarizer is helpful for:
Regular news enthusiasts
News writers as it makes it to quickly get the gist of a trending topic, and know which sources to explore
Features
Example prompts for World News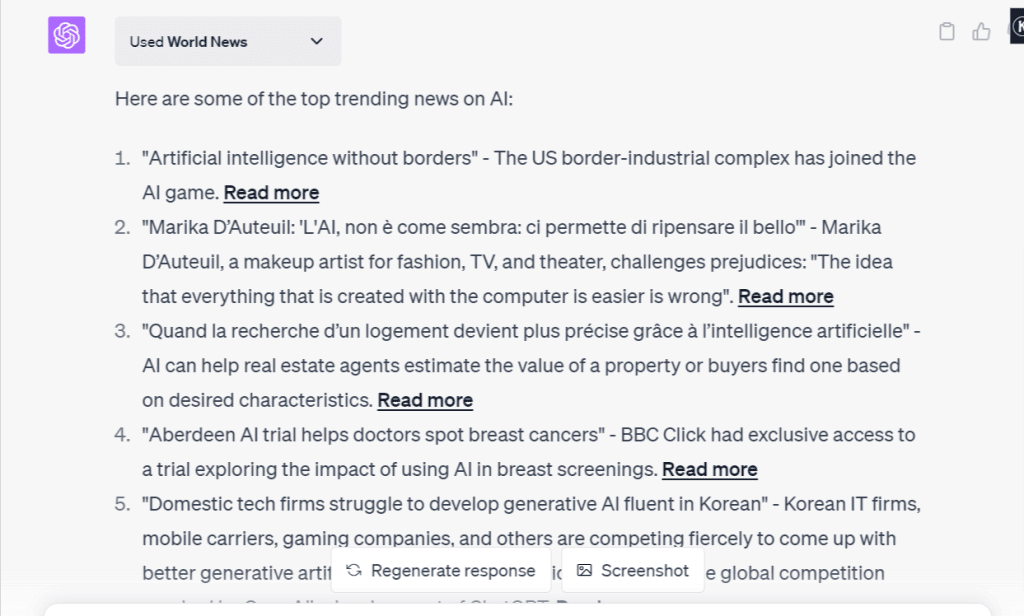 What happened at G7 summit?
What are the top business news today?
What are the top trending topics on Twitter?
To get started, simply install the World News ChatGPT plugin from the ChatGPT plugin store, enable it, and ask for the latest news from various sources around the world.
For example, you could say "What's the latest news on climate change?" or "What's happening in the tech industry right now?"
The plugin will then curate a list of articles and provide a summary of each story, along with links to the original sources.