Sam Altman, a pivotal figure in the realm of artificial intelligence and a key player in national AI policy debates, was just removed from his role as the CEO of OpenAI.
This move sent ripples through the tech community, raising questions about the reasons behind his abrupt departure.
Why was Sam Altman ousted?
Altman's ousting was a result of the board's loss of confidence in his leadership. After a thorough review process, the board concluded that Altman was not consistently candid in his communications with them.
This lack of transparency hindered the board's ability to fulfill its responsibilities, ultimately leading to their decision that Altman could no longer lead OpenAI effectively.
However, many X users seem not to agree with the board's decision.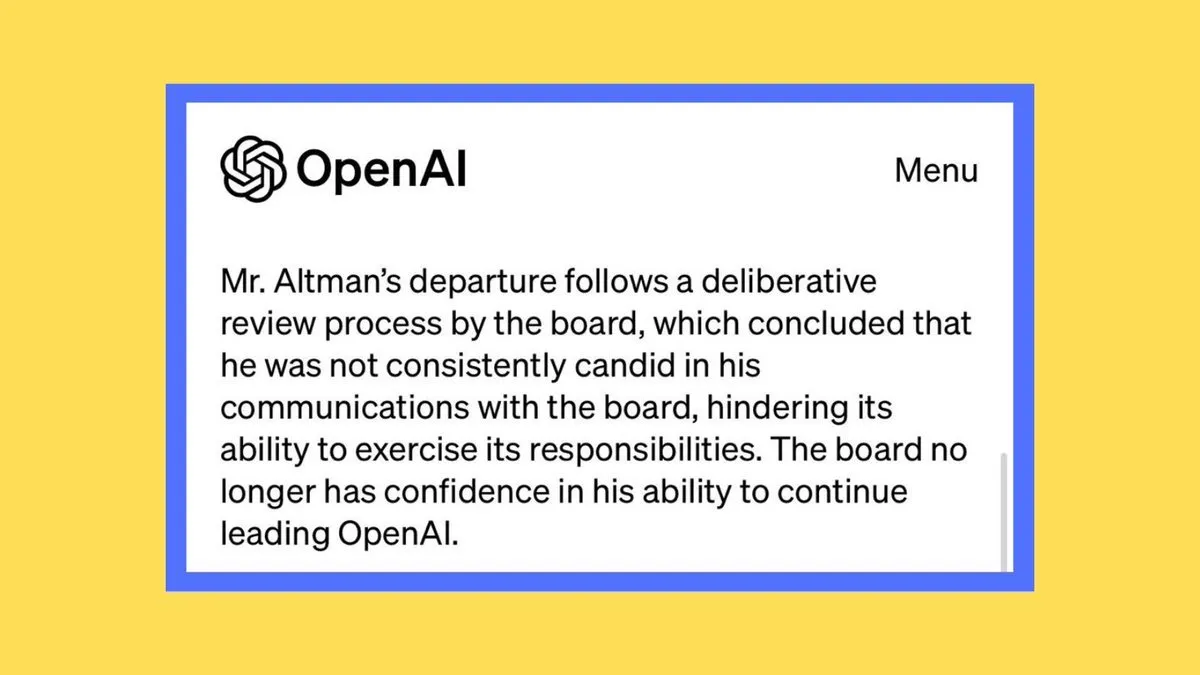 Who is on OpenAI's board?
The current OpenAI board of directors consists of several influential figures in the tech industry:
Ilya Sutskever: Co-founder and Chief Scientist of OpenAI.
Adam D'Angelo: CEO of Quora.
Tasha McCauley: A noted tech entrepreneur.
Helen Toner: Director of Strategy and Foundational Research Grants at Georgetown Center for Security and Emerging Technology
These are the masterminds that saw Sam fired from the unicorn company.
Sam's parting shot
In a tweet to his nearly 2 million followers on X, Sam said that he had enjoyed working as the CEO of the company, and had had the best of time working with talented minds.
i loved my time at openai. it was transformative for me personally, and hopefully the world a little bit. most of all i loved working with such talented people.

will have more to say about what's next later.

🫡

— Sam Altman (@sama) November 17, 2023
Why Sam's firing is causing an uproar
Hostile / aggressive wording – pointing to a strong disagreement
Not unanimous – 4 hours after the ousting, Greg Brockman quits OpenAI's board membership
Hurried and sudden firing
Key partners were not involved (Microsoft was blindsided)
By corporate standards, that OpenAI blog post is pretty vicious.

— Miguel de Icaza (@migueldeicaza) November 17, 2023
Following Altman's departure, Mira Murati, who served as the chief technology officer, has been appointed as the interim CEO of OpenAI
Current CEO of OpenAI
Microsoft response
In light of this, Microsoft, a major investor in OpenAI, has made a clear statement regarding its ongoing relationship with the organization.
The tech giant affirmed that Altman's exit would not affect their partnership.
A representative from Microsoft emphasized,
"We have a long-term partnership with OpenAI and Microsoft remains committed to Mira [Murati] and their team as we bring this next era of AI to our customers."
This statement underscores Microsoft's dedication to its collaborative efforts with OpenAI, signaling a seamless transition and continued advancements in AI technology.
Sam's accomplishments
Sam Altman's tenure as the CEO of OpenAI was marked by several significant achievements and contributions to the field of artificial intelligence:
Transition to OpenAI: In 2020, Altman left Y Combinator to focus full-time on OpenAI as CEO. He co-founded OpenAI in 2015 alongside Elon Musk and other notable entrepreneurs.
Funding and growth: OpenAI's initial funding included contributions from Altman, Greg Brockman, Elon Musk, Jessica Livingston, Peter Thiel, Microsoft, Amazon Web Services, Infosys, and YC Research. The organization successfully raised $1 billion at its launch.
Advocacy and oversight: Altman actively participated in discussions on AI oversight, testifying before the United States Senate Judiciary Subcommittee on Privacy, Technology, and the Law in May 2023
Development of GPT-4: Under Altman's leadership, OpenAI released GPT-4, a groundbreaking language model trained on trillions of words from the internet. This achievement solidified OpenAI's position as a leader in AI development.
Collaboration with Microsoft
These highlights reflect Altman's role in shaping OpenAI's direction and influence in the AI industry.
His vision and leadership significantly contributed to the organization's development and the broader AI landscape.
What's next, Sam?
Presidency?
No, Sam Altman is not running for president, and the information on the internet originated from a tweet he made quoting Congressman Dean Phillips
this is interesting, and i think close to what the majority of voters actually want:

a reasonable, centrist candidate running on 1) a message of a strong economy and increasing affordability 2) a focus on safety and 3) generational change.

curious to see what happens. https://t.co/UeHLSU89dU

— Sam Altman (@sama) October 27, 2023
The specifics of Sam Altman's future endeavors or roles, post his tenure as CEO of OpenAI, remain uncertain as of the latest information available.
His departure and the reasons behind it were notably significant, given his role in the company's growth and the development of influential AI technologies like ChatGPT​​​​​​.
Conclusion
Sam Altman's ousting from OpenAI marks a significant shift in the leadership of one of the leading forces in the AI industry.
As the organization moves forward under the guidance of Mira Murati, the tech community eagerly watches to see how this change will shape the future of AI advancements and policies.
---
This development in the AI industry is a testament to the dynamic nature of technology leadership and the importance of transparency and trust in high-stakes environments. For further insights and updates on this evolving story, stay tuned to tech news platforms.